happy may...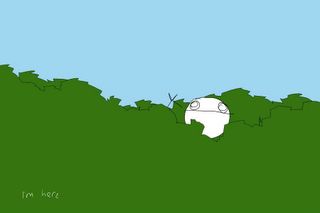 "i'm here" explodingdog.com

random thoughts of today...
I am in love with... Rob Stone. Crazy in love. I had a wonderful time visiting the pier yesterday. Very redemptive after watching Family Guy ;)
I am encouraged by... many things, but specifically right now my good ol' friend Quinn and his new blog. Lots of good stuff to read. Also encouraged by studying Ephesians currently. It's awesome. I like when I get to lead Bible study because I get deeper into the scriptures we're looking at. Also encouraged by Louie Giglio. I've been listening to a sermon series of his in my car this week instead of music. What a communicator of God's message!
I am praying for... my girls and everyone else who is on mission in Mexico this week. I know God is using them in huge ways.
I am committing to... being healthier. I am giving up sugar (for a while), and have been several days without it thus-far. (Yes, the sugar-free ice cream at Cold Stone is a reasonable substitute.) I plan to shop and eat healthier in as many ways as possible.
I am waiting on... the job God has for me for the summer. I had an interview today with a staffing agency, and I hope to hear from them with a job placement in a day or two.
I am preparing for... Wednesday night when I am speaking at Fusion. Thoughts are still whirling around in my head, but as of right now, the plan is for me to speak on Christians being the "stones" of the temple of God built upon Christ the cornerstone. (See Ephesians 2:19-22) But we all know how plans go... they really don't matter because it's all up to God! I may incorporate something about grace compelling us to do good works, as that was my first idea, but I may not. We'll see.
I am..... hungry. So I'm going now. Peace out!